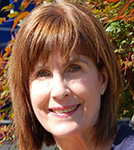 After more than 20 years being involved with the dog community, Jill Lundgrin founded  Coastal Canine Academy in the fall of 2010.

Her knowledge and experience with dogs continues to expand daily. That's why she says "everyday is a learning day." Now you have the advantage of gaining from her, up-to-date knowledge and experience to have well-behaved dogs in your home who can be lifetime family members.
Jill is a full member of the Association of Pet Dog Trainers, Charleston Dog Training Club and Certified Pet CPR/First Aid instructor.
Positive reinforcement with a special emphasis on clicker training is used. Not only can dogs learn skills quicker, but they learn them for a lifetime. You will start to see results in only a few sessions with this great method.
Contact us today at 843-607-7193 to schedule your training today!
National 4-H Dog Care and Training
Graduate Sheriff's Academy in KS
Graduate and Assistant of Dale Carnegie Course
Annually Certified in Darkness 2 Light
Associate Degree in Applied Science in Veterinary Medical Technology
Past member of Salina Kennel Club
BA Business Management/Economics, Bethany College, KS
Was chief Ring Steward for Sunflower Cluster Dog Show
Member of the Charleston Dog Training Club
Full member of the Association of Pet Dog Trainers (APDT)
Certified American Red Cross Pet CPR/First Aid Instructor
First Charleston and 2nd South Carolina trainer accepted into the international, advanced, elite Karen Pryor Clicker Training Academy